Getting Ready for the Bounce Back.
---
Most organizations are successful. The unsuccessful ones don't last very long! But even successful organizations have irritants that get in the way of reaching maximum success. In normal times these are accepted. Various measures may be put in place to try to overcome them. These measures are typically at the symptomatic level, so fundamental change is not achieved.
In times of turmoil, these irritants are magnified. The turmoil requires that everyone in the organization to be fully pulling their weight and to be focused on their value-added work. The irritants suddenly become hurdles and roadblocks.
What is one of the main irritants? The Owner is not able to focus on their value-added work because they are pulled down into their team members' work. Why? Because their team members aren't focused on their value-added work, and someone has to do it.
So how do you raise the level of work so you can be confident your team members are focused on the right work so you can focus on yours?
In the webinar you will be introduced to the fundamental concepts that every organization needs to have in place. Address these things now so you will be ready for the bounce back.
Key topics include:
Complexity of work – organization design, or the science of layers in organizations

Human Capability – talent pools, or how to match people to roles where they have the capabilities to work at that level of complexity (and particularly the problem solving capability)

The Effective Point of Accountability®- an accountability and authority model that right-sizes work and helps assure appropriate collaboration across teams
Meet the Workshop Facilitator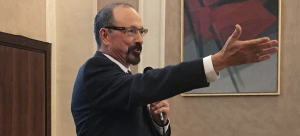 Dwight Mihalicz, FCMC
Dwight helps organizations perform at their best. He helps clients to improve performance. He works with owners and CEOs to ensure that everyone in the organization is focused on the right work. He focuses on manger effectivenes ensuring that all managers, from the Owner or CEO to the front line, are focused on their key strategic priorities and have the accountability and authority required for success. Using every-day language, he translates complex concepts into meaningful action that can be applied immediately.
Dwight's breadth and depth of experience, knowledge, and organizational know-how are integral in providing solutions that work for you. Using his experience as a manager, executive, and management consultant, Dwight helps CEOs and Executives maintain the balancing act required to maximize their organizations' performance.
Dwight has founded and is President of Effective Managers™, a management consulting firm based in Canada and providing services globally. Dwight has worked with a variety of organizations: of different sizes, in all sectors, and in many countries. He helps clients solve the problems they are facing so that they can be more successful.
Dwight earned an MBA from the University of Ottawa, where he also served as the Director of the Dean's Advisory Board at the Telfer School of Management. In 2013, Dwight was inducted as an Honorary Member of Beta Gamma Sigma by the Telfer School of Management, the highest honor a business student can receive through an AACSB accredited university.
Dwight is also currently the Chairman of The International Council of Management Consulting Institutes. He has been elected a Fellow of the Canadian Institute of Management Consultants (CMC-Canada) in recognition of his outstanding contributions to his profession, his clients and to the community. He is also a Fellow of the Business Excellence Institute.
An author of many papers and publications, Dwight has published The Effective CEO: The Balancing Act that Drives Sustainable Performance, a book that explores the key functions that CEOs must execute to be successful.

The Certified Management Consultant (CMC) designation is the profession's only international certification mark, established in 49 countries, and through the Global Institute in every country of the world. It represents a commitment to the highest standards of consulting and adherence to the ethical canons of the profession. CMC-Canada (the Canadian Association of Management Consultants) administers, and its provincial Institutes confer, the CMC designation in Canada. For more information, please visit www.cmc-canada.ca